Our Dolphin
Posted December 3, 2016
THRICE PUBLISHING™ NFP is proud to announce the publication of the first book in our library of independent titles, Our Dolphin by Thrice Fiction contributor Joel Allegretti. Our Editor at Large, RW Spryszak, chatted with Joel as we were working on his book. Click here to read the interview. Our Dolphin is available now from Amazon and the CreateSpace eStore.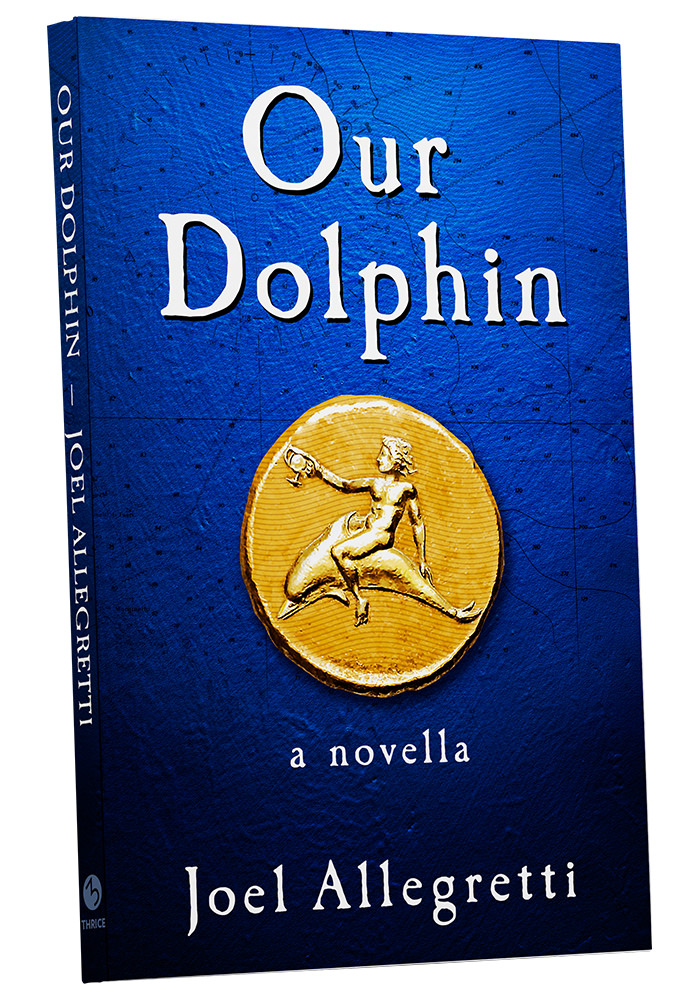 The Novella Project
Posted November 5, 2016
Thrice Publishing™ (the NFP company that publishes Thrice Fiction™ magazine) will be publishing up to two stand-alone titles a year of novella-length work (18,000 to 35,000 words). The query process will be open from May 1 to July 31 every year. Check out our submissions page for details.
Donate to Thrice
Posted April 10, 2016
Want to help us publish selected works outside the mainstream press that deserve to be seen? As a not-for-profit 501(c)3 organization registered in the State of Illinois, Thrice Publishing™ relies on the generosity of people like you to fulfill our missions of getting great writers published and read! All donations are tax-deductable, and you'll get a letter from us in January to assist with your tax planning. Sound good? You can use the PayPal link below to donate online, or mail a check or money order to:

Thrice Publishing
PO Box 725114
Roselle, IL 60172.
Thanks so much for helping out!
Thrice Fiction™ Magazine
Posted December 31, 2015
Welcome to the fifteenth issue of Thrice Fiction magazine! Published three times a year, Thrice Fiction is filled with stories, art, and a few surprises from a variety of talented contributors. But the best part? It's absolutely FREE! That's right, you can download a free PDF or eBook at no charge, or purchase a beautiful full-color printed copy from MagCloud! Just follow the links below!
Stories include...
• Grounded by Ray Nessly
• A Life Forgotten by Iron Voorhees by Rob Cook
• Smiling Buddhas by Nancy Hightower
• Listen by Ginna Luck
• Salute by Clodagh O'Brien
• Dripping Teeth by Maroula Blades
• Ripples Run Deep by Carol Malkin
• Winter Sun is a Lie by Fikret Pajalic
• The Woman with the Juicy Fruit Breath by Paul Beckman
• Natalie's Room by Eliot Deringer
• A Tribe of Our Own by Gregory Roll
• the day nannette barns heard her brother neil barnes tell ricky c he wanted her dead by Christine Tierney
• Courtesy by Esther Veitch
• The Passerby by Mike Corrao
• Welcome by Melissa Ostrom
• Lessons from Incidents That Might've Occurred in Key West by Rosemarie Dombrowski

Note: Thrice Fiction may contain some adult language and situations. Parental guidance is suggested for readers under 17 years of age.

So what are you waiting for? Click here to get your FREE copy at the Thrice Fiction magazine website!
Thanks for supporting Thrice Publishing! Tell your friends!
©2011-2017 by Thrice Publishing™
All content is ©2011-2017 by their respective creators and reproduced with permission.
No part of this site may be reproduced without permission from the copyright holders.